Looking for a way to save on your next grooming session? Look no further than Eagle & Bear! Here's how you can enjoy a £5 discount:
Simply refer a friend to our establishment, and they'll receive a £5 discount on their first visit. And as a thank you for your referral, we'll also give you a £5 discount on your next visit!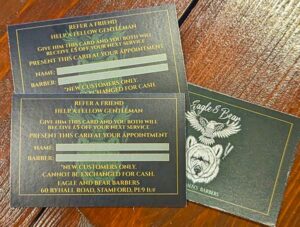 At Eagle & Bear, we take pride in delivering the highest quality grooming services to our clients. That's why we've created this referral program to reward your loyalty and encourage you to share the experience with your friends.
To make it easy for you to refer your friends, we've created referral cards that you can pick up from our reception desk. Just give these cards to your friends and remind them to mention your name when they come in for their first visit.
We value your loyalty and appreciate your support in spreading the word about Eagle & Bear. So why not take advantage of this great offer and save on your next visit? Don't forget to pick up your referral cards today!